Data to boost energy efficiency
Up to 2.5% of global CO2 emissions can be prevented by running heat exchangers at optimal performance. Every year, the number of heat exchangers Alfa Laval services to optimize energy efficiency, saves our customers' power capacity by 50 GW. ​
Imagine what we could do if all industries serviced their plate heat exchangers to optimize heat transfer efficiency. Furthermore, what if the optimization evolves smarter and more digitalized.
Watch the video to learn about how Alfa Laval addresses this.
The Smart Heat Exchanger​
Alfa Laval Smart Heat Exchanger is an online connected service, proactive monitoring for Gasketed Plate Heat Exchangers of all brands.
By simply attaching sensors on the equipment, and our dedicated analytics, we enable our customers to oversee current and future status through an online panel.​
Enabling smart decisions
Conditioning Monitoring: provide insight on the thermal condition of the plates and mechanical condition of the gaskets.​
Predictive Maintenance: give indication of when should clean the plates and change the gaskets per our expertise. ​
Performance optimizer: guide on how operate, service and redesign to reach the best performance, and reduce operational costs and CO2 emission.​
Remote support: instant data allows our experts to stay close to you anytime, to avoid breakdowns and maximize your asset health.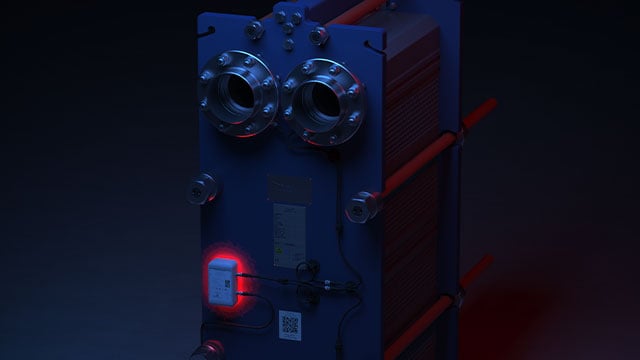 Get Started Now!
Do you want to avoid unplanned maintenance? Improve reliability to increase uptime? And maximize performance to reduce operational costs?
Att få effektiviteten att hålla i årtionden
Att hålla dina värmeväxlare i toppskick kan göra stor skillnad för din lönsamhet. Utrustningsproblem kan inte bara leda till oplanerade driftstopp och produktionsförluster, utan en minskning av termisk effektivitet orsakad av bristande underhåll kan också påverka produktkvaliteten och driva upp driftskostnaderna.
Vi har expertisen för att hjälpa dig oavsett om du upplever ett problem idag, vill förhindra framtida problem eller vill lösa problemet själv med vår online-felsökare.
Service för att optimera energieffektivitet
Antalet värmeväxlare vi servar för att optimera energieffektiviteten reducerar varje år våra kunders kapacitetsbehov med 50 GW. Det är samma mängd energi som kan genereras av 10 000 vindkraftverk inom samma tidsram.
Räknat i koldioxidutsläpp översätts 50 GW till en minskning av vårt globala fotavtryck med 25 miljoner ton, eller samma mängd koldioxid som släpps ut i London varje år.
Föreställ dig vad vi skulle kunna uppnå om världens industrier regelbundet servade sina plattvärmeväxlare för att optimera värmeöverföringseffektiviteten.