OLMI Primary Quench Exchanger S&T Type
Alfa Laval Olmi shell-and-tube primary quench exchangers (TLE), quickly cool hot gaseous effluent from hydrocarbon cracking furnaces while generating saturated steam. As a trusted equipment and service provider to the ethylene industry, Alfa Laval optimizes quench exchangers along with ancillary items, such as steam drums and piping, for continuous uptime and maximum ethylene productivity and yield.
Optimizing ethylene quench processes
Cracking effluents quench processes are among the toughest challenges facing ethylene producers today. Alfa Laval Olmi S&T primary quench exchangers (TLE) feature patented design innovations that contribute operational reliability and long service lifetimes. A combination of highly efficient cooling and erosion resistance eliminates the risk of severe thermal-mechanical stresses and the need for an impingement device at inlet. Innovations such as these help improve process efficiency while reducing costs and increasing reliability, safety and yield.
Corrosion-, erosion- and fouling-resistant
Patented smart design, use of exotic materials and advanced welding techniques make Alfa Laval Olmi S&T primary quench exchangers resistant to corrosion, erosion and fouling.
Main features
Thin and flexible tubesheet assures effective cooling and reduced thermal-mechanical stresses across tubesheet thickness, and minimizes the differential thermal expansion between hot tubes and cold shell, then reducing fatigue stresses
Tubesheet single forging assures about high metallurgical and mechanical quality
Crevice-free weld eliminates risk of local corrosions within tubes-tubesheets
Internal Bore Welding greatly reduces stresses on welds, minimizes buildup of coke deposits and gas impingement. Easy-to-examine (via X-ray).
Erosion-resistant weld overlay eliminates wear and damages on inlet tubesheet and need of additional impingement devices along the gas path

Shell-side distibution boxes guarantee good flooding on inlet tubesheet and efficient collection of steam. High water velocity on inlet tubesheet assures an efficient cooling and prevents also deposits, so to eliminate risk of corrosion or overheating due to fouling (self-cleaning tubesheet)

In the worst case of hard depoists on inlet tubesheet, couplings allow removal by brushing

Inlet cone can be rotated over 360° on a pivoting hinge, allowing rapid and easy maintenance
We have reduced the coil outlet and we got benefits from valuable products yields increase. M. Mantica, CEO, Italy
To be perfectly honest with you, I don't have any cons. Pat Matthews, Project lead – Hot side, Canada
Success was not only achieved in quality, service and schedule compliance but also in the personal and professional relationships. Dave Oulton, Principal Engineer, Canada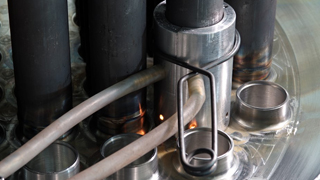 Internal bore welding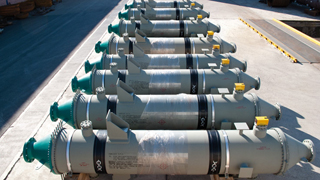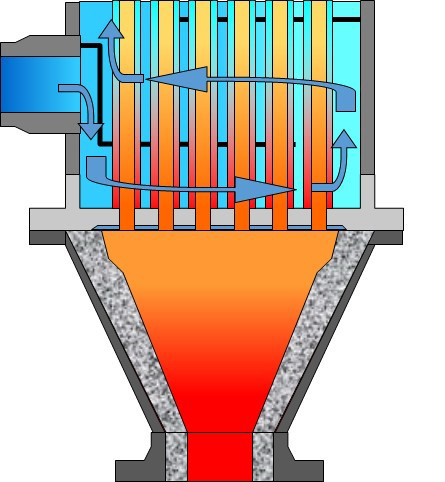 Even flow of coolants where most needed